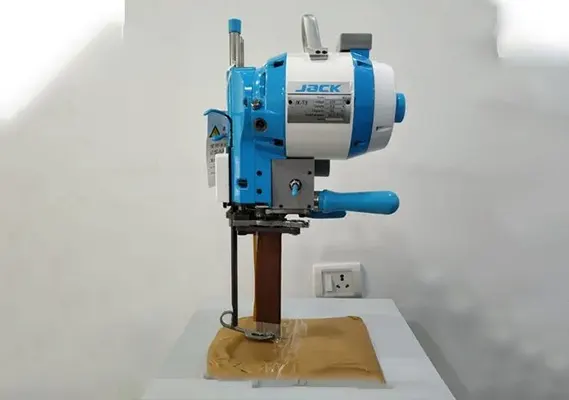 Jack is the leading Straight Knife Cutting Machine Manufacturers. This instantly knife reducing gadget is a kind of industrial reducing equipment used for reducing diverse substances in an instantly line. It is usually used in industries which include clothing manufacturing, upholstery, leather goods, and other cloth-related sectors. The system capabilities a straight, vertical blade that movements up and down to cut via the cloth. The blade is generally fabricated from metal and has a sharp side for specific slicing. It is powered by using an electric powered motor or pneumatic device, which gives the necessary pressure to reduce thru the cloth efficaciously.
Description
Being the largest Straight Knife Cutting Machine Suppliers. Our cutting machines can cope with a wide variety of materials, including fabric, leather, foam, rubber, and other bendy or semi-inflexible materials. They are in particular appropriate for cutting single or a couple of layers of fabric or substances stacked on top of each different. The operator guides the material along the slicing desk even as the blade moves up and rights down to make the cuts. Some machines have additional features which include a clamping mechanism or an automatic sharpening system to beautify performance and convenience.
We are the largest Straight Knife Cutting Machine Exporters and distributors. Our machines provide numerous blessings. They are flexible and may cut various materials without problems. The instantly slicing action allows for precise and smooth cuts, making them suitable for reducing immediately traces, curves, and elaborate shapes. These machines are often used for a task which includes slicing styles, trimming excess cloth, or splitting substances into smaller sections. However, it's really worth noting that instantly knife slicing machines might not be as green as different slicing techniques when it comes to slicing more than one layers or complicated styles. For those functions, specialized machines like band knife slicing machines or high ply computerized slicing machines can be greater appropriate.
Jack is the name that has been widely known as the leader Straight Knife Cutting Machine Traders in India, Our machine is a versatile cutting tool utilized in industries in which immediately-line slicing of different materials is required. It gives precision and flexibility for plenty of packages, making it a valuable asset in lots of production and fabrication procedures.
Enquire Now
Your email address will not be published. Required fields are marked *
Straight Knife Cutting Machine