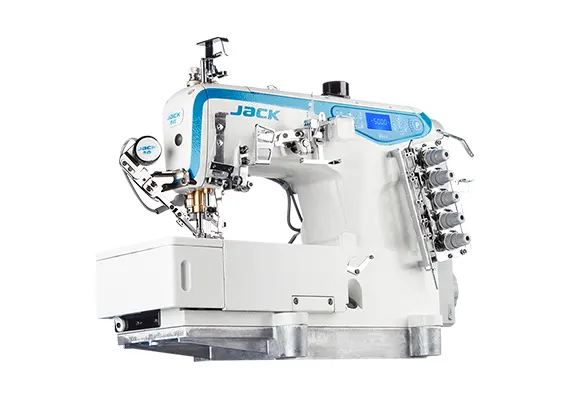 Visha Sewtech is the name that has been widely known as the leader Jack W4S-UT Sewing Machine Manufacturers in India. We offer a range of efficient and durable machines with automatic features to relieve sewing stress, we have been offering affordable machines for the past 10 years and what we have earned over the years is the golden trust of our customers. We offer our sewing machines in national and international markets in various countries including India, China, Nepal, Bangladesh and many other countries. The machines we offer have been the first choice of every garment and industrial sector.

Our machines are known for their durability, precision and ease of use. We constantly strive to innovate and improve our products to meet the changing needs of our customers.
JACK W4S-UT Sewing Machine - Specification
---
Thread Trimmer And Thread Catcher
The upper thread trimmer and thread catcher work at the same time.
High Speed
The speed of the W4S is 5,500 rpm, compared to the 3,700 rpm of a normal machine with cover, the eff
Computerized With Voice Guide
Using the machine it will teach you the various functions itself, if there are errors it will notify
Wide Adaptability
Ability to sew on heavy, medium, light and mesh fabrics. Up to 8 layers of fabric thickness, without
Description
Jack is the leading Jack W4S-UT Sewing Machine Traders. The pace of the W4S is 5,500 rpm, in comparison to the 3, seven hundred rpm of a normal gadget with cover; the efficiency will increase extra than 50%. This growth in performance is because of the W4S's particular layout and advanced technology. The machine's motor is able to perform at a better pace without sacrificing performance or sturdiness. Additionally, the W4S's streamlined design lets in for better airflow and cooling, in addition improving its performance. As a end result, customers can anticipate to look big time and value financial savings whilst using the W4S for his or her manufacturing or manufacturing needs. The upper thread trimmer and thread catcher paintings on the same time.
Being the largest Jack W4S-UT Sewing Machine Suppliers. Using the machine it'll educate you the numerous functions itself, if there are errors it'll notify you and by using clicking the VOICE button it'll propose how to resolve the hassle, furthermore with a unmarried key you can go back to the preliminary settings. This superior system is definitely wonderful in its potential to educate customers the numerous functions without the need for huge schooling. It is designed to be intuitive and consumer-pleasant, with blunders notifications and recommendations effortlessly to be had at the click of a button. The VOICE feature is specifically useful, supplying clear instructions on how to solve any issues that could rise up. Additionally, the machine offers a handy single-key reset function that allows customers to quick go back to the preliminary settings if wished. With these revolutionary capabilities, this device is sure to streamline any assignment and make even complex processes easy and simple.
We are the largest Jack W4S-UT Sewing Machine Exporters and distributors. Ability to sew on heavy, medium, light and mesh fabric. Up to eight layers of cloth thickness, without any adjustment, is retaining the beauty of the stitch. With its flexible competencies, this sewing gadget is a ought to-have for any avid sewer. Its ability to stitch on heavy, medium, light, and mesh fabrics manner that you may address any venture simply. And with the functionality to address up to 8 layers of cloth thickness without any adjustment, you may be sure that your stitches will maintain their splendour and strength. Whether you're running on a cover, a garment, or a domestic decor task, this device has were given you covered. Its precision and reliability make it an appropriate choice for both novices and experienced sewers alike. So why wait? Add this sewing system for your collection nowadays and take your sewing abilities to the subsequent degree!
Enquire Now
Your email address will not be published. Required fields are marked *
JACK W4S-UT Sewing Machine