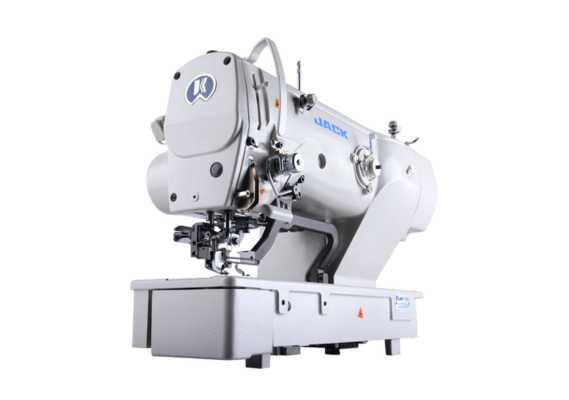 Jack is the leading Jack JK-T1790B Sewing Machine Manufacturers. We are offering durable and Multifunctional Machine that can shop as much as 200 sorts of patterns. Equipped with USB interface, handy to add styles and replace software program large sewing tray Easy to use Excellent work floor, handy for laying cloth and making counterpoint. Smart system High velocity, excessive efficiency Automatic trimmer, computerized strain foot raise features. The maximum speed can be 4200 rpm, which significantly improves paintings efficiency. The electronic thread tension device correctly prevents thread breakage, thread drop when beginning stitching, thread tension problem and so forth, which guarantees beautiful stitching. The fan notably lowers the motor temperature and extends the life of the system. Use for additional stretch cloth, under stitches and styles can be mixed to be used. Multi-reduce to open the buttonhole while the buttonhole size is huge and the cutter isn't always modified.
JK-T1790B Sewing Machine - Specification
---
Many patterns Easily upgrade for software
It can save maximum 200 types of patterns. Equipped with USB connection, convenient for adding patte
Big sewing platform Easy operation
Superior work platform, Convenient to put fabric and make counterpoint.
Intelligent system High speed high efficiency
Automatic trimmer, automatic presser foot lifter functions. Maximum speed can reach 4200 RPM, which
Electronic thread tension device Beautiful stitch
Electronic thread tension device is effective to avoid thread breakage, drop thread when start sewin
Cooling system Low temperature and durable
The cooling fan greatly lowers the temperature of motor, lengthens the lifetime of machine.
Bottom sewing technology Easy sizing
Especially use for elastic fabric, Bottom sewing and pattern sewing can be combined to use.
Multi-cut no need to change the knife
Using multi-cut to open button hole if the button hole size is big and without change the knife.
Description
Being the largest Jack JK-T1790B Sewing Machine Suppliers, the device additionally has a integrated needle threader that saves time and removes eye pressure. The LED lighting fixtures provides shiny and clear illumination of the stitching location, allowing for clean and accurate stitching. The system also gives a variety of sew options, together with ornamental stitches and buttonhole styles, taking into account infinite creative possibilities. The adjustable presser foot stress permits for unique manage over cloth feeding, ensuring even and steady stitches. With all of these superior capabilities, this sewing system is ideal for both novices and experienced sewers alike. Overall, this sewing gadget is a flexible and dependable device that let you obtain your sewing goals with no trouble. Whether you are operating on a easy mission or a complicated design, the gadget's capabilities and capabilities will allow you to create splendid and professional-searching outcomes. So, in case you are seeking out a stitching machine that can deliver superb overall performance and value for cash, that is without a doubt a amazing desire to remember.
We are the largest Jack JK-T1790B Sewing Machine Exporters and distributors. The sewing gadget additionally boasts a consumer-pleasant interface that makes it clean to use and operate. Its intuitive controls and clean display screen let you modify settings and transfer among exclusive stitch styles conveniently, at the same time as its computerized needle threader and drop-in bobbin machine make threading and setup a breeze. Plus, with its lightweight and compact design, this sewing system is easy to transport and shop, making it a super desire for sewers who want a system that may hold up with their busy way of life.
Enquire Now
Your email address will not be published. Required fields are marked *
JK-T1790B Sewing Machine