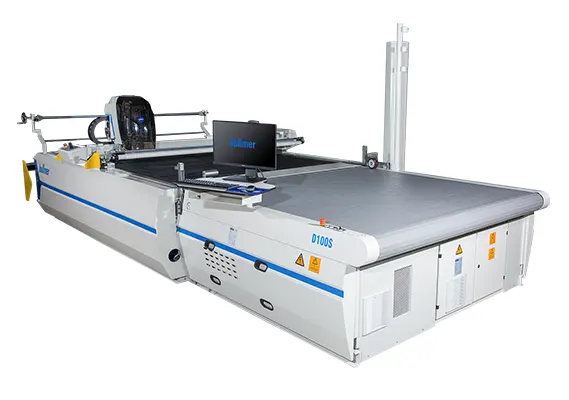 Jack is the leading High Ply Automatic Cutting Machines Manufacturers. It is excessive ply automatic slicing gadget specially designed to deal with large stacks of material or fabric layers for reducing functions. These machines are broadly utilized in industries including apparel production, car, aerospace, fixtures, and different fabric-related sectors. Our High ply automated cutting machines are included with software program systems that allow the operator to input slicing patterns or templates. The software program optimizes the cutting layout to limit fabric waste and maximizes performance. The cutting manner can be controlled and monitored through a person interface, which presents actual-time statistics on reducing development and signals the operator to any troubles.
Description
Being the largest High Ply Automatic Cutting Machines Suppliers. The primary reason of our cutting gadgets is to automate and streamline the process of cutting a couple of layers of fabric or materials simultaneously, frequently known as cutting machines; Traditional cutting techniques contain manually stacking layers of material and slicing them one by one, which is time-eating and hard work-in depth. High ply automated reducing machines assist triumph over these challenges via supplying more performance, accuracy, and productiveness.
We are the largest High Ply Automatic Cutting Machines Exporters and distributors. These machines normally encompass a massive slicing desk that could accommodate more than one layers of material or substances stacked on pinnacle of each different. The cutting table is geared up with a pc-managed cutting head or a series of reducing heads, relying on the gadget's layout. The cutting heads circulate along the X and Y axes to exactly cut thru the stacked layers. These machines provide numerous blessings over manual cutting methods. They considerably lessen the time and exertions required for cutting large quantities of fabric or materials. The automation guarantees constant and correct cuts across all layers, ensuing in stepped forward quality and decreased rework. Additionally, the software optimization helps decrease cloth waste, main to fee financial savings in the end.
Jack is the name that has been widely known as the leader High Ply Automatic Cutting Machines Traders in India, high ply automated slicing machines are effective equipment used in industries in which slicing large stacks of cloth or substances are a common requirement. They automate and streamline the slicing technique, improving performance, productivity, and typical exceptional even as reducing labor and cloth waste.
Enquire Now
Your email address will not be published. Required fields are marked *
High Ply Automatic Cutting Machines