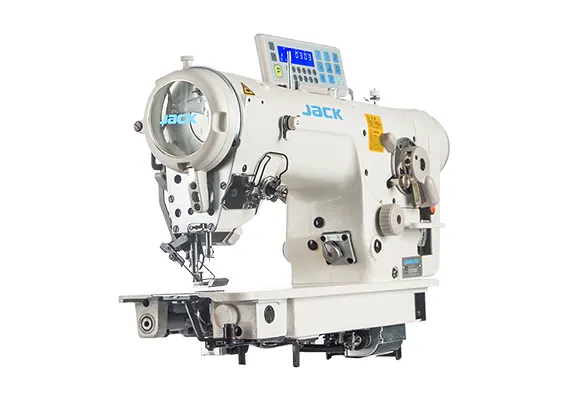 Jack is the name that has been widely known as the leader JACK 2284 Sewing Machine Manufacturers in India. Additionally, the system functions a integrated thread trimmer and automated lubrication device, making it a convenient choice for excessive-quantity manufacturing. The adjustable presser foot pressure and sew duration permit for personalisation to match the particular desires of every mission. The JK-2284 also has a durable production, making sure toughness and reliability within the sewing method. Its user-friendly layout and intuitive controls make it easy for both novice and skilled sewers to perform. Overall, the JK-2284 is a versatile and green device for various stitching packages. The seams made on skinny substances and stretch fabrics remain especially stable.

This is due to the fact the sewing method used on these forms of fabrics is regularly extra intricate and particular. The use of a stretch stitch or a zigzag stitch, as an example, lets in the thread to move with the fabric, stopping it from breaking or becoming distorted. Additionally, many manufacturers use specialized machines and needles designed specifically for those materials to ensure a super and durable seam. However, it's miles vital to note that even with those precautions, thin and stretchy fabric can still be prone to tearing or fraying if now not dealt with and cared for properly.
JACK 2284 Sewing Machine - Specification
---
Three Stitch
3-stiches Zig Zag available with this pattern.
Footlifter Bartack Thread Trimmer E Thread Wiper
2284-4E* Model
Computerized
Through the panel you can adjust the various advanced functions of the machine.
8mm Zig Zag
The JK-2284 machine is suitable for sewing: women's underwear, jackets, gloves, elastic reinforcemen
Easy Zig Zag Width Adjustment
With a knob it is possible to adjust the oscillation of the needle bar according to the user's needs
Elastic Foot
The seams made on thin materials and stretch fabrics remain particularly stable.
Description
Jack is the leading JACK 2284 Sewing Machine Traders. It has Foot lifter Bartack Thread Trimmer E Thread Wiper. These features make the stitching manner a good deal more green and streamlined. The foot lifter allows for clean adjustment of the presser foot, while the bartack feature reinforces seams for added sturdiness. The thread trimmer cuts excess thread with precision, saving time and effort. The E thread wiper prevents thread from tangling or breaking, making sure a easy sewing experience. Overall, these advanced functions make this stitching machine a amazing investment for both novices and skilled sewers.
Being the largest JACK 2284 Sewing Machine Suppliers. The JK-2284 gadget is suitable for sewing: women's underwear, jackets, gloves, elastic reinforcements and other products that require zig-zag sewing as much as 8mm huge or three stitches. Through the panel you could alter the various advanced capabilities of the gadget. This includes placing the temperature, adjusting the stress, and selecting the precise cycle in your particular load. Additionally, the panel lets in you to customise your wash or dry settings, such as choosing a selected spin pace or adding more rinse cycles. With those advanced capabilities, you can make sure that your garments are cleaned or dried precisely the way you want them, with none guesswork or hassle. The panel also presents useful facts, consisting of predicted time final and any mistakes codes which could arise in the course of the cycle. Overall, the superior functions handy through the panel make doing laundry a greater efficient and personalized enjoy.
We are the largest JACK 2284 Sewing Machine Exporters and distributors. With our advanced machine, you may easily trade Zig Zag Width Adjustment. With a knob it's miles viable to alter the oscillation of the needle bar consistent with the consumer's needs. These permits for more precision and control over the sewing method. Additionally, a few machines may also have more than one knob for adjusting one-of-a-kind elements of the needle bar's oscillation, which includes speed and depth. It is critical to end up familiar with these knobs and their features so that it will obtain the favoured results to your sewing initiatives.
Enquire Now
Your email address will not be published. Required fields are marked *
JACK 2284 Sewing Machine