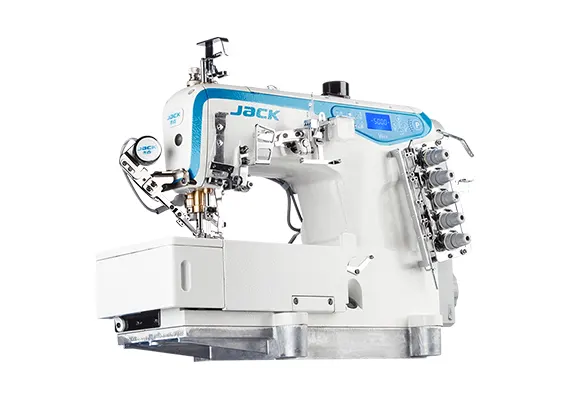 We are the largest Jack K5E-UT Swing Machine Manufacturers .Ability to stitch on skinny fabric, knits and up to eight layers of fabric thickness, with none adjustment, keeping the beauty of the stitch. This makes it a super system for each novices and professionals alike. The automated needle threader and drop-in bobbin device make threading and bobbin winding a breeze, whilst the adjustable stitch length and width allow for personalization of your initiatives. The gadget also comes with quite a few presser feet, along with a walking foot and a quilting foot, to tackle any sewing venture. The LED light illuminates the work area, making it easy to peer your stitches even in low mild situations. The presser foot lifter is managed with the aid of a stepper motor making it two times as sturdy and durable as the old magnet.

Vishal Sewtech is the name that has been widely known as the leader Swing Machine Traders in India. Overall, the Singer Heavy Duty 4452 is a dependable and versatile device that can cope with all of your stitching desires readily. Using the device it will educate you the diverse features itself, if there are mistakes it's going to notify you and with the aid of clicking at the VOICE button it will endorse a way to clear up the trouble, moreover with a unmarried key you could move returned to the preliminary settings. (-UT only).
JACK K5E-UT Sewing Machine - Specification
---
Step Motor Footlifter
The presser foot lifter is controlled by a stepper motor making it twice as strong and long lasting
Step Motor Thread Trimmer (-UT)
Even the thread trimmer is controlled by a stepper motor which gives it a quick response and makes i
High Speed
The speed of the K5E is 5,500 rpm, compared to the 3,700 rpm of a normal machine with cover, the eff
Wide Adaptability On Fabrics
Ability to sew on thin fabrics, knits and up to 8 layers of fabric thickness, without any adjustment
Computerized With Voice Guide
Using the machine it will teach you the various functions itself, if there are errors it will notify
Industry 4.0 (Optional)
Thanks to the integrated WIFI module you can modify the parameters and control the productivity of t
Description
Jack is the leading Jack K5E-UT Swing Machine Exporters and distributors. This superior machine is designed to make your life less difficult by teaching you its various features on its own .Even the thread trimmer is controlled via a stepper motor which offers it a brief response and makes it extremely silent (-6dB). This function is particularly beneficial for individuals who work in noise-touchy environments, such as libraries or hospitals. Additionally, the stepper motor permits for particular manipulate over the thread trimming procedure, ensuring smooth and correct cuts each time. The trimmer additionally boasts a compact layout, making it clean to manoeuvre and shop when not in use. Its long lasting creation guarantees that it could face up to common use without breaking down or dropping its effectiveness. Overall, the thread trimmer is a dependable and efficient tool which could substantially enhance the productivity of any sewing challenge. The pace of the K5E is 5,500 rpm, as compared to the three, 700 rpm of a normal device with cowl, the performance will increase extra than 50%.
We are the largest Jack K5E-UT Swing Machine Suppliers. It is geared up with a blunders notification device with a view to warn you in case of any troubles. To in addition help you, the machine comes with a VOICE button that shows answers to any troubles which could get up. Additionally, in case you want to reset the device, you may accomplish that without problems with simply one key. This characteristic is available exclusively for UT customers, making it even greater convenient and consumer-friendly. With this system at your disposal, you can relaxation confident that all your duties may be completed efficiently and effectively. Thanks to the included WIFI module you can alter the parameters and control the productiveness of the gadget at once from the software. NB: a Jack gateway should be bought for each 50 machines.
Enquire Now
Your email address will not be published. Required fields are marked *
JACK K5E-UT Sewing Machine