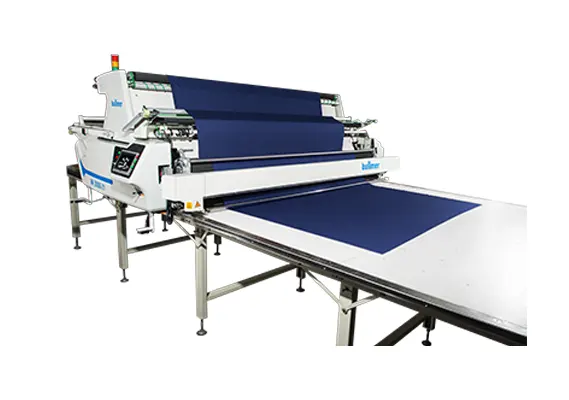 Jack is the leading Automatic Layer spreading machine Manufacturers, offering A computerized layer spreading gadget, additionally called an automatic material spreading device, is specialised device used in the textile and garb enterprise for the efficient and unique spreading of fabric layers in preparation for slicing. It is an essential step inside the manufacturing process, specifically while dealing with massive quantities of cloth.
Description
Being the largest Automatic Layer spreading machine Suppliers, the fundamental motive of our machine is to automate and streamline the fabric spreading system, which traditionally includes manually laying out material layers on a slicing desk. This guide method may be time-eating, hard work-in depth, and susceptible to errors. Our offered device helps triumph over these challenges through providing increased efficiency, accuracy, and productivity. The gadget generally includes a huge table with rollers or conveyor belts that flow the material along its surface. The cloth roll is placed at one give up of the table, and the device unwinds the fabric whilst spreading it smoothly and uniformly throughout the desk. The speed and anxiety of the material can be adjusted to make certain most fulfilling spreading. our layer spreading machines can also consist of additional functions together with edge alignment systems, anxiety control mechanisms, and sensor generation to come across cloth flaws or irregularities. These features make contributions to attaining extra particular and consistent cloth spreading.
We are the largest Automatic Layer spreading machine Exporters and distributors. The benefits of our automated layer spreading system are:
1. Time and hard work savings: our machine significantly reduces the time and hard work required for cloth spreading compared to guide techniques. It can handle massive material rolls effectively, taking into account faster production turnaround.
2. Improved accuracy: This device ensures regular material alignment and anxiety, resulting in greater accurate and uniform fabric layers. This accuracy is vital for next reducing approaches to attain precise and amazing clothes.
3. Material savings: The system optimizes the cloth format and minimizes waste. It can calculate and adjust the most efficient material consumption, decreasing material prices ultimately.
4. Enhanced productivity: By automating the fabric spreading method, the gadget increases standard productivity with the aid of casting off the bottlenecks and inconsistencies related to manual spreading.
Jack is the name that has been widely known as the leader Automatic Layer spreading machine Traders in India, our spreading system Device is a treasured tool within the textile and apparel industry, bearing in mind green and particular spreading of material layers earlier than reducing. It offers time and labor financial savings, progressed accuracy, cloth optimization, and more suitable productiveness, contributing to a more streamlined and fee-effective production method.
Enquire Now
Your email address will not be published. Required fields are marked *
Automatic Layer Spreading Machine