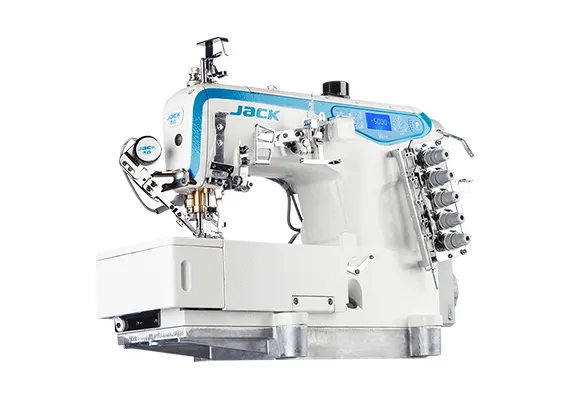 Vishal Sewtech is the name that has been widely known as the leader Jack W4 Sewing Machine Manufacturers in India. In addition to its versatility, this stitching device additionally gives a number features that make it a have to-have for any sewing fanatic. With adjustable sew period and width, as well as multiple needle positions, you could personalize your stitches to suit your specific wishes. The system also consists of a integrated needle threader, making threading a breeze and saving you time and frustration. And with its durable metal body and powerful motor, this sewing gadget is built to last and may handle even the hardest stitching initiatives with ease. So whether or not you're a beginner or a seasoned pro, this sewing device is positive to grow to be your Business.Apart from this, we offer our Wide range of Sewing Machines.
JACK W4 Sewing Machine - Specification
---
Thread Catcher
Device for holding cut needle threads.
High Speed
The speed of the W4 is 5,500 rpm, compared to the 3,700 rpm of a normal machine with cover, the effi
Integrated Control Box And Motor
Quick and easy installation, clean and safe design.
Wide Adaptability
Ability to sew on heavy, medium, light and mesh fabrics. Up to 8 layers of fabric thickness, without
Elastic Feeding With Front Metering Rollers (05)
Description
Jack is the leading Jack W4 Sewing Machine Traders offering Multifunctional Machine for containing reduce needle threads. The pace of the W4 is 5,500 rpm, as compared to the three,700 rpm of a everyday gadget with cover; the efficiency increases greater than 50%. This growth in performance is because of the higher velocity of the W4, which lets in for faster and greater particular cutting. Additionally, the W4's layout reduces friction and heat construct-up, in addition improving its performance. The device's advanced generation also allows for more manipulate and customization of slicing parameters, making it best for a extensive range of packages. With its astounding velocity and performance, the W4 is a sport-changer inside the global of cutting machines. Whether you are running with sensitive materials or difficult metals, this effective device will help you attain your goals speedy and accurately. So if you're seeking to take your cutting capabilities to the next level, appearance no in addition than the W4.
Being the largest Jack W4 Sewing Machine Suppliers. Furthermore, the W4 is geared up with a tool for holding reduce needle threads, making the cutting method even extra seamless and efficient. This characteristic removes the want for manual trimming of threads, saving time and enhancing the general quality of the reduce. The device also reduces the risk of thread tangling and breakage, making sure a clean and uninterrupted slicing procedure. Overall, the W4 is a flexible and reliable slicing device which could take care of lots of substances and programs effortlessly. Its advanced capabilities and amazing overall performance make it a treasured addition to any workshop or production facility. Quick and smooth installation, smooth and secure layout.
We are the largest Jack W4 Sewing Machine Exporters and distributors. Ability to stitch on heavy, medium, light and mesh fabric. Up to eight layers of fabric thickness, with none adjustment, keeping the beauty of the stitch. This sewing machine is a flexible tool which can deal with heavy, medium, light, and mesh fabric without difficulty. With the capability to sew up to eight layers of material thickness with none adjustment, this device is best for all of your sewing wishes. The beauty of the stitch is maintained during the system, making sure that your completed product appears expert and polished. Whether you're operating on a heavy-duty task or a sensitive piece of apparel, this sewing device can deal with all of it. So why wait? Invest in this powerful tool today and take your sewing talents to the following level!
Enquire Now
Your email address will not be published. Required fields are marked *
JACK W4 Sewing Machine