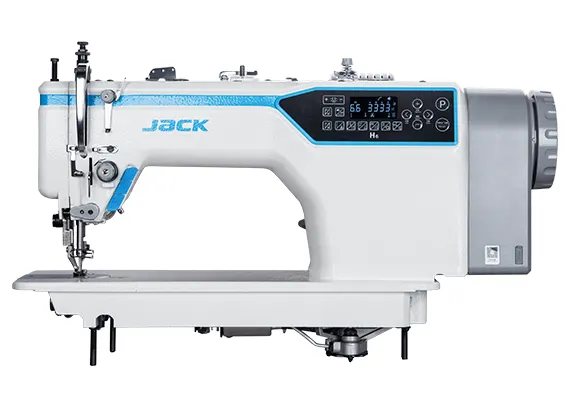 Vishal Sewtech is the name that has been widely known as the leader Jack H6 Sewing Machine Manufacturers in India. We offer a range of efficient and durable machines with automatic features to relieve sewing stress, we have been offering affordable machines for the past 10 years and what we have earned over the years is the golden trust of our customers. We offer our sewing machines in national and international markets in various countries including India, China, Nepal, Bangladesh and many other countries. The machines we offer have been the first choice of every garment and industrial sector.

Our machines are known for their durability, precision and ease of use. We constantly strive to innovate and improve our products to meet the changing needs of our customers. If you are still struggling to find the best sewing machine for your industry, you should try the Jack F5. We are a name that stands by what we say.
JACK H6 Sewing Machine - Specification
---
Digital Stitch Adjustment
The stitch length can reach 0.1mm controlled by a step motor. It was also introduced the lock of sti
Pattern Sewing
You can create beautiful ornamental stitches, thanks to the alternating stitch length. Also they can
Digital Silent Bartack
Thanks to the structure of the step motor for the digital bartack, the noise has been reduced drasti
Top Feed
750W motor, extremely durable for heavy materials, sew 8 layers of leather with beautiful results th
Half-Stitch Button
Users can also sew the half stitch by pressing a simple button, for work of accuracy, angles and whe
Short Thread Cutting
You no longer need to cut the remaining thread: this avoids the risk of ruining the job and saves ti
Voice Guide
Using the machine, it will teach you the various things. If there are errors it will notify you clic
Automatic Electric Foot Lifter
Save time and energy, thanks to the electric automatic presser foot lifter you will not have to exer
Industry 4.0 (Optional)
Thanks to the integrated WIFI module you can modify the parameters and control the productivity of t
Opening Electronic Tension (H6L)
Precision in tension opening during thread cutting, controllable from the panel.
Description
Jack is the leading Jack H6 Sewing Machine Traders. Suitable for sewing heavy items such as bags, cushions, leather gloves and armchairs, it's easy to dig up more than 8 layers of leather thanks to Lockstitch's integrated 750W motor with digital top feed. This sewing machine is a game changer for anyone who wants to sew light weights. Its digital surface feed allows for precise sewing, while an integrated 750W motor ensures that even the toughest materials can be moved effortlessly whether you're working with bags, cushions, leather gloves, or armchairs, this machine this is right for the job. Its powerful machinery and advanced features allow you to complete your tasks quickly and efficiently. Plus, its sustainable architecture means it will last for years to come. So if you are looking for a reliable sewing machine that can handle heavy duty jobs, look no further.
Being the largest Jack H6 Sewing Machine Suppliers. You can make beautiful decorative fabric, thanks to the length of the gradual threads. Moreover, it can be modified to suit different needs. Stitch length can be increased up to 0.1 mm controlled by a step motor. There was also a stitch length adjustment lock introduced.
We are the largest Jack H6 Sewing Machine Exporters and distributors. Noise is greatly reduced thanks to the configuration of the step motor for the digital bartack: this allows you to work in a quiet and comfortable working environment In addition, the digital bartack provides precision and accuracy in weaving, and it results in superior finished product. The step motor provides a smooth and consistent movement of the material, ensuring that each seam is uniform and precise. This not only improves the final product's appearance but also increases its durability and durability. Also, the Bartack digital control system makes it easy to adjust stitch length and width.
Enquire Now
Your email address will not be published. Required fields are marked *
JACK H6 Sewing Machine