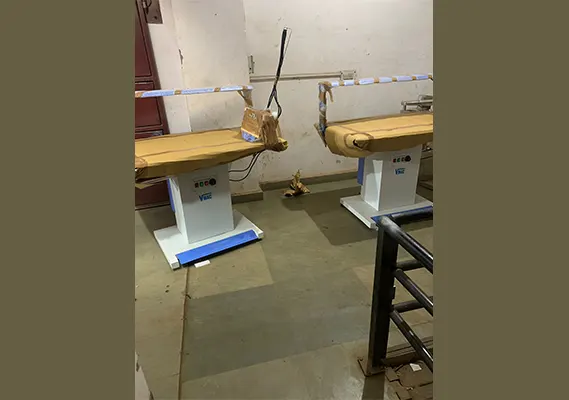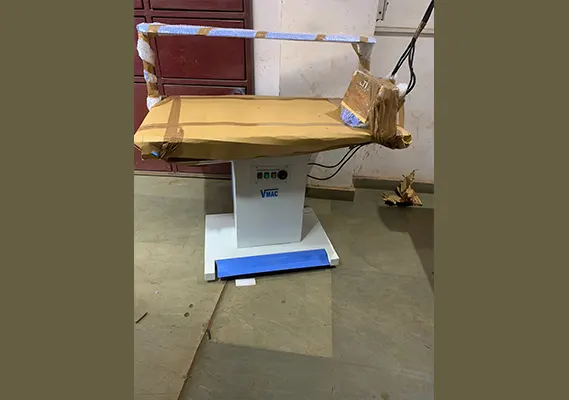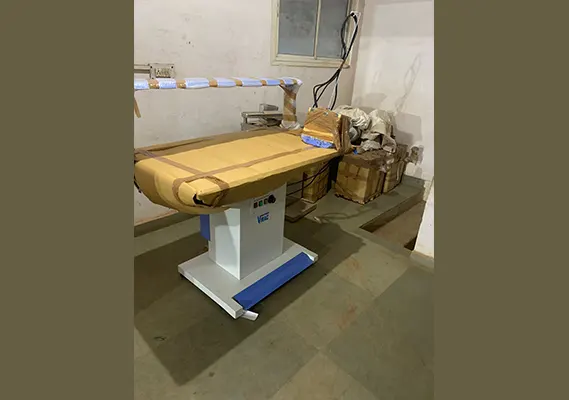 VMAC is the leading Pressing Tables Manufacturers Pressing tables, also known as ironing tables or urgent stations, are specialized surfaces or system used in garment production, textile industries, and laundry facilities for urgent and completing fabrics and garments. They offer a flat, padded surface on which fabric and clothes may be positioned for ironing, steaming, or urgent to attain a clean and expert appearance.
Description
Being the largest Pressing Tables Suppliers. Our Pressing tables typically consist of the following additives:
1. Surface: The surface of a pressing desk is normally made from a long lasting, warmness-resistant fabric, including steel or plywood, protected with a padded and warmth-resistant fabric. The padding offers a soft and cushioned surface for the cloth or garment to be pressed on.
2. Vacuum System: Many pressing tables characteristic a vacuum device that allows hold the material or garment in location all through the pressing procedure. The vacuum pulls air via small holes within the table's surface, developing suction that maintains the fabric taut and forestalls it from transferring throughout ironing or steaming.
3. Iron Rest: Pressing tables frequently include an iron relaxation, a delegated location or attachment where the hot iron can be thoroughly positioned while now not in use. The iron relaxation is typically warmness-resistant and helps save you accidents or damage to the table or surrounding materials.
4. Accessories: Some urgent tables include extra accessories to facilitate the urgent procedure, along with sleeves boards or attachments for pressing narrow or curved areas of garments, detachable water tanks for steam era, or steam hoses for direct steaming.
We are the largest Pressing Tables Exporters and distributors. Pressing tables provide several benefits within the garment and textile enterprise:
1. Professional Finishing: They offer a dedicated workspace for urgent, ironing, and steaming garments, making sure a professional and polished end. Pressing tables help smooth out wrinkles, creases, and fabric imperfections, giving garments a crisp and neat appearance.
2. Efficient Workflow: Pressing tables streamline the garment production process with the aid of providing a committed region for pressing. Having a chosen area for pressing removes the want to install and dismantle the ironing forums again and again, saving time and enhancing average performance.
3. Versatility: Pressing tables can accommodate a wide range of fabrics and garment kinds, such as delicate fabric that require gentle pressing and heavyweight fabrics which could want greater warmth and strain. The add-ons and functions of urgent tables permit for unique and controlled pressing on different garment regions.
4. Safety: Pressing tables are designed with protection functions including warmness-resistant surfaces and iron rests, reducing the threat of accidents and burns in the course of the pressing method.
VMAC is the name that has been widely known as the leader Pressing Tables Traders in India, urgent tables are crucial gadget in garment manufacturing and textile industries. They provide a dedicated workspace for expert urgent, improving efficiency, first-rate, and protection within the manufacturing technique.
Enquire Now
Your email address will not be published. Required fields are marked *
Pressing Tables