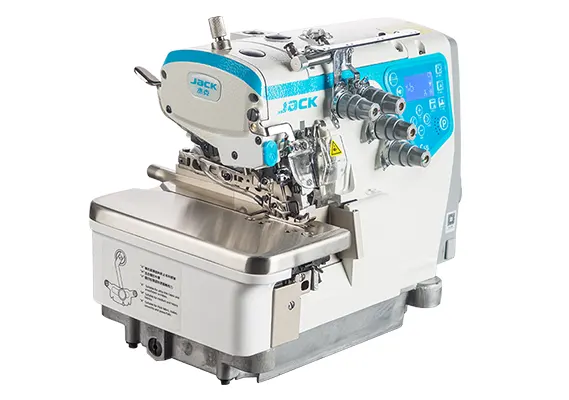 Vishal Sewtech is the name that has been widely known as the leader Jack C5S Sewing Machine Manufacturers in India. Using the machine it will train you the various functions itself, if there are errors it'll notify you and through clicking the VOICE button it'll suggest a way to resolve the hassle, also with a single key you may go back to the preliminary settings. The most velocity is 7,000 rpm, that's 35% faster than a standard automobile. Grease lubrication machine, needle bar in DLC (diamond like carbon), prevents the oil from unfavourable the material. The important moving elements are anti-wear; make certain long lifestyles in excessive-speed operation. Thanks to the incorporated WIFI module you can modify the parameters and manage the productiveness of the device at once from the software. NB: a Jack gateway must be purchased for every 50 machines
JACK C5S Sewing Machine - Specification
---
Chaincutter Wasted Suction (KS/KH)
The front part sucks up the scraps of material, while the back part sucks up the cut threads and all
Automatic Batchlatch (BK)
Automatic device to increase the quality, avoids damaging the fabric in the formation of the chain r
Short Thread
Thanks to the automatic electric cutter controlled by the photocells, the cut is 5mm both in front a
L/M/H Selector
By means of a lever it is possible to change the inclination of the feed dog according to the type o
Vocal Guide
Using the machine it will teach you the various functions itself, if there are errors it will notify
Speed Up To 7000 R.P.M
The maximum speed is 7,000 rpm, which is 35% faster than a standard car.
Semi-Dry (C5S-W)
Grease lubrication system, needle bar in DLC (diamond like carbon), prevents the oil from damaging t
Durable Pieces
The main moving parts are anti-wear, ensure a long life in high-speed operation.
Description
Being the largest Sewing Machine Suppliers. The stitching device comes prepared with built-in photocells that permit for automated stitching, making the system more green and streamlined. Its speedy acceleration and deceleration response has been progressed with the aid of 50%, making sure smoother and faster stitching. Additionally, the system functions a light/medium/heavy responsibility selector that permits users to without problems adapt it to one of a kind kinds of fabrics. The short cut back and front at 5mm ensures precision in each stitch. For delivered convenience, the machine is available with devices together with a series cutter wasted function and automated batch latch, making it even less complicated to apply. With these advanced features, this sewing gadget is a ought to-have for any expert tailor or seamstress looking to improve their craft. The front component sucks up the scraps of material, even as the returned part sucks up the reduce threads and allows you to hold the seam smooth.
We are the largest Jack C5S Sewing Machine Exporters and distributors. This progressive sewing tool is a recreation-changer for everyone who loves to stitch. With its twin suction talents, it makes cleansing up after a sewing project a breeze. No more struggling to select up tiny scraps of material or cut threads out of your paintings surface. The front part of the device is best for fast and without difficulty sucking up any free bits of cloth, whilst the returned part is designed particularly for choosing up cut threads. This method that you may preserve your work area easy and tidy, while not having to forestall and sweep or vacuum each couple of minutes. Whether you are a professional seamstress or simply enjoy stitching as a interest, this on hand device is sure to turn out to be an essential part of your toolkit. So why now not supply it a attempt today and spot how lots simpler it could make your next sewing challenge? Automatic tool to increase the pleasant, avoids adverse the material inside the formation of the chain return. Thanks to the automated electric powered cutter controlled by the photocells, the reduce is 5mm each in front and at the back of. By means of a lever it's far viable to change the inclination of the feed dog according to the kind of light, medium or Heavy Duty fabric, this permits to satisfy the diverse work desires.
Enquire Now
Your email address will not be published. Required fields are marked *
JACK C5S Sewing Machine