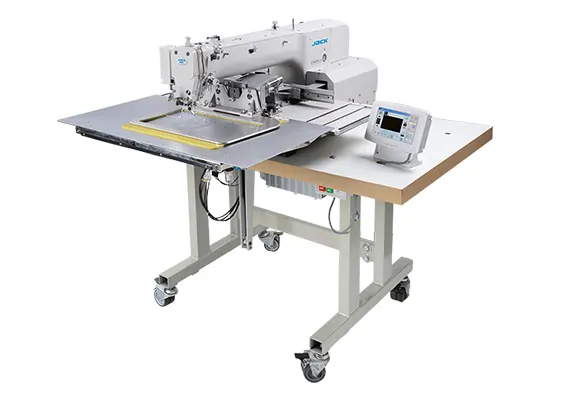 We are known in the Industry as the foremost Jack 3020 Sewing Machine Manufacturers in India. The Machine has inbuilt excessive-energy servo motor that drives a powerful needle penetration force and stitching thick materials may be finished smoothly. Exclusive template for pockets patching, ideal, secure and rapid stitches. Overall, the user is describing a specialized template this is designed for patching pockets. The template is said to be distinctive, that means it's far unique and now not widely to be had. It is also defined as ideal, safe, and rapid, indicating that it is incredibly powerful and green in producing high-quality stitches. Thanks to the included WIFI module you can alter the parameters and control the productivity of the system directly from the application. NB: a Jack gateway have to be purchased for every 50 machines. The Jack gateway ensures that every machine is related to the same network and can be managed through the utility. This makes it easy to monitor and regulate the settings of a couple of machines right away. Additionally, the utility permits you to set alerts and receive notifications if any issues stand up with the machines. This characteristic can help prevent downtime and improve universal productiveness. With the WIFI module and Jack gateway, managing your machines has by no means been easier.
JACK 3020 Sewing Machine - Specification
---
Large Memory
Up to 999 programs can be imported directly via USB. Suitable for sewing leather goods, bags, shoes,
Touch Panel
The design to be sewn is clear at a glance, the sewing parameters are detailed and the ease of editi
Template Replacement
K-clip device: just insert the template pin into the slot of the device and press the footswitch: th
High Thicknesses
The high-power servo motor drives a powerful needle penetration force and sewing thick materials can
Pocket Patching
Exclusive template for pockets patching, perfect, safe and fast stitches.
Industry 4.0 (Optional)
Thanks to the integrated WIFI module you can modify the parameters and control the productivity of t
Description
Jack Sewing, the leader Jack 3020 Sewing Machine Traders supplying durable and multi-functional machine with Pattern Field Machine Medium Size wherein Up to 999 applications can be imported without delay thru USB. Suitable for sewing leather-based goods, luggage, footwear, jeans and different Special parts. In addition to the widespread program ability, this sewing device also features powerful motor and sturdy components, making it a reliable desire for heavy-responsibility sewing tasks. The machine is designed to address thick materials effortlessly, and its adjustable feed mechanism ensures even stitching on all styles of fabric. With its intuitive controls and person-friendly interface, this stitching system is a brilliant desire for both novices and experienced sewers alike. Whether you are operating on a professional undertaking or in reality need to explore your innovative facet, this versatile device has everything you want to obtain splendid outcomes. The layout to be sewn is clear at a look, the sewing parameters are exact and the convenience of editing is significantly advanced.
As the largest Jack 3020 Sewing Machine Suppliers, our offered machine is equipped with multiple features. With these features, the sewing manner becomes extra green and less time-eating. The clean design also facilitates to lessen mistakes and boom accuracy. Additionally, the distinct stitching parameters make sure that the final product meets the desired specs. The ease of editing permits for quick modifications to be made, ensuring that the layout is best before stitching starts. Overall, these advancements in stitching technology have revolutionized the enterprise and made it less complicated for designers and producers to create great products.
Being the leader Jack 3020 Sewing Machine Exporters, it has pin and slot layout that guarantees a secure connection, stopping any unintentional dislodging in the course of use. This feature is in particular useful in excessive-stress environments wherein even the slightest disruption can cause steeply-priced delays or mistakes. Furthermore, the footswitch allows for palms-loose operation, permitting the consumer to cognizance on other tasks even as retaining control over the tool. Overall, the pin and slot design coupled with the footswitch feature makes this tool a precious tool for any expert searching for precision and efficiency of their paintings.
Enquire Now
Your email address will not be published. Required fields are marked *
JACK 3020 Sewing Machine