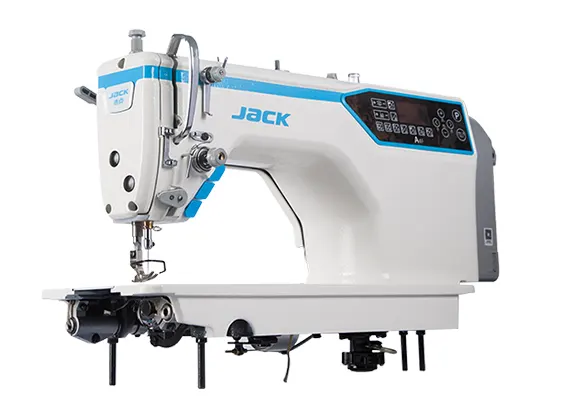 Vishal Sewtech is the name that has been widely known as the leader Jack A4F Sewing Machine Manufacturers in India. One of its most impressive capabilities is its ability to sew through thick fabrics with ease, thanks to its powerful motor and sturdy construction. Additionally, the machine comes equipped with a range of accessories, including multiple presser feet and a built-in needle threader, that make sewing even more convenient and enjoyable. The electronic display screen is also a standout feature, providing clear and concise information about your sewing settings and progress. Whether you're working on a simple project or tackling a complex garment, this sewing machine is sure to meet all of your needs and exceed your expectations. So why wait? Invest in the electronic bartack stepper motor sewing machine today and take your sewing skills to the next level!
JACK A4F Sewing Machine - Specification
---
Digital Stitch Length
The stitch length can reach 0.1mm controlled by a stepper motor. The stitch length adjustment lock f
Digital Footlifter
Foot lifter digitally controlled by a stepper motor. It is possible to adjust up to 13 levels from t
Sewing Pattern
You can create beautiful ornamental stitches, thanks to the alternating stitch length and repetition
Silent Bartack
Thanks to the structure of the stepper motor for electronic bartack, noise has been drastically redu
Short Thread
You no longer need to cut the remaining thread: this avoids the risk of ruining the work and saves t
Voice Guide
Using the machine, it will teach you the various functions itself, if there are any errors it will n
High Precision Overlap
The overlapping of the stitches can be done very precisely in all stitch lengths. Digital bartack fu
Description
Jack is the leading Sewing Machine Traders offering Digital sewing with digital press speed, digital stitch adjustment, automatic thread cutting, digital thread cutting and short thread cutting. Oil removed. The length of the point can be 0.1mm, which is controlled by a stepper motor. A lock function for stitch length adjustment is also implemented. The leg lifter is digitally controlled by a stepper motor. Up to 13 levels can be adjusted from the panel with one click. Thanks to various stitches and repeats, you can create beautiful decorative stitches. They can also be modified according to different needs. Thanks to the design of the electronic bartack stepper motor, the noise is significantly reduced: it allows you to work in a quieter and more comfortable working environment. You no longer have to cut the remaining thread: this way you avoid damaging the work and save time and money. Being the largest Jack A4F Sewing Machine Suppliers. The machine has a built-in thread cutter that automatically cuts the thread after each stitch. This feature is especially useful for those who work with a high volume of projects and need to save time on manual thread cutting. The machine also has a large LCD screen that displays all the necessary information, such as stitch type, stitch length, and thread tension. This makes it easy to adjust the settings and keep track of your progress. Overall, the electronic bartack stepper motor sewing machine is a reliable and efficient tool for any sewing enthusiast or professional. It boasts a variety of features that make it stand out from other sewing machines on the market. We are the largest Jack A4F Sewing Machine Exporters and distributors. In addition, you can also activate the beginning and/or end condensation point on the machine to prevent the seam from unravelling. When you use the machine, it will teach you the various functions, give you a signal when errors occur, and by clicking the VOICE button, it will recommend how to solve the problem. Overlapping stitches can be made very precisely with all stitch lengths. A digital bartack function is available. Overall, the electronic bartack stepper motor sewing machine is a highly advanced and user-friendly tool that offers a range of features to make sewing easier and more efficient. From the large LCD screen to the beginning and end condensation points; this machine is designed to help you achieve precise and professional results with ease. Whether you are a sewing enthusiast or a professional, this machine is sure to become an indispensable part of your toolkit.
Enquire Now
Your email address will not be published. Required fields are marked *
JACK A4F Sewing Machine