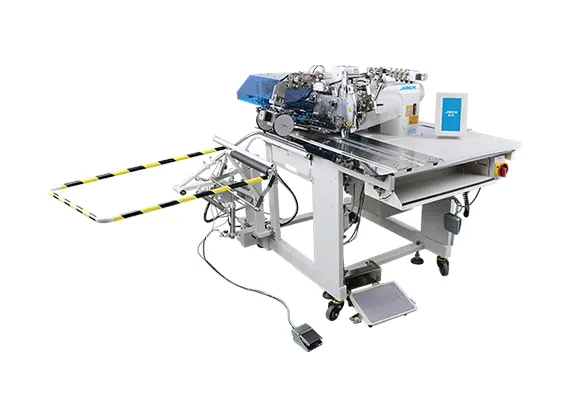 Jack is the name that has been widely known as the leader Sewing Machine JACK JK-5878-68 Manufacturers in India. The cross pattern laser positioning device on the workbench and preparation platform is a game-changer in terms of convenience and efficiency. It eliminates the need for manual measurements and ensures precision in every task. This device is designed to make your work easier, faster, and more accurate. With its high efficiency, you can complete your tasks in less time without compromising quality. The laser positioning device is also user-friendly, making it easy for anyone to operate it without any special skills or training. Whether you are a professional or a DIY enthusiast, this device will make your work easier and more enjoyable. With its advanced technology, you can be sure that every project you undertake will be a success. So why struggle with manual measurements when you can have the cross pattern laser positioning device on your workbench? Get yours today and experience the difference! The machine is stopped immediately when a problem occurs during the sewing process to ensure that the fabric is not damaged. This feature is essential for ensuring the quality of the final product and preventing costly mistakes. In addition, the machine is equipped with advanced sensors that detect any abnormalities in the stitching process and alert the operator. This allows for quick intervention and correction of any issues that may arise. The machine also has a user-friendly interface that makes it easy to operate, even for those with limited experience in sewing. Its compact design makes it ideal for use in small spaces, while its robust construction ensures durability and longevity. Overall, this sewing machine is a reliable and efficient tool that can help streamline your sewing process and produce high-quality garments with ease. Easy to use, automatically fold the clothing saving time and effort. Facilitates the handling of the garment while sewing.
JACK JK-5878-68 Sewing Machine - Specification
---
Wide Range Of Pocket
A variety of pockets: single welt, double welt, flap, etc.
Touch Pannel
The large touch screen is quick and easy to use and the external USB interface is useful for storing
Easy Foot Adjustment
Easy adjustment of the right and left foot pressure.
Engraving Knives
The shape of the corner knives can be easily adjusted by opening the knife drawer. The knives are ma
Bobbin End Detection
The sensor monitors the bobbin in real time: when it is about to run out, it asks the operator to ch
Broken Thread Sensor
When the needle thread breaks or runs out, the machine stops immediately.
Description
Jack is the leading JACK JK-5878-68 Traders Offers a variety of placket styles, men's and women's styles, easy to choose. The large touch panel displays various parameters and setting functions is quick and easy. The external USB interface is useful for storing programs and software updates.
Being the largest JACK JK-5878-68 Suppliers. The touch panel's intuitive interface allows for easy navigation and customization of settings. With its large size, users can easily view and monitor various parameters without straining their eyes. The USB interface also provides a convenient way to transfer data and store important programs or software updates. This feature is especially useful for businesses or individuals who need to frequently update their systems. Overall, the combination of a large touch panel display and external USB interface makes this device a versatile and efficient tool for any setting. The movement of the machine head allows you to easily adjust the sewing distance as needed.
We are the largest JACK JK-5878-68 Exporters and distributors. This feature is particularly useful when working with different fabrics or when switching between projects. Additionally, the machine head can be tilted to provide better visibility and access to the needle area. This is especially helpful when working on intricate designs or when using specialty stitches. The sewing speed can also be adjusted to suit your needs, allowing you to work at a comfortable pace without sacrificing precision. Another great feature of this machine is its automatic thread cutter, which saves time and eliminates the need for manual trimming. The machine also comes with a variety of presser feet and accessories, making it versatile enough to handle a wide range of sewing tasks. Overall, the movement of the machine head is just one of many features that make this sewing machine a valuable tool for any home seamstress or professional tailor. The workbench and the preparation platform are respectively equipped with a cross pattern laser positioning device, which is more convenient and efficient, and has higher efficiency.
Enquire Now
Your email address will not be published. Required fields are marked *
JACK JK-5878-68 Sewing Machine