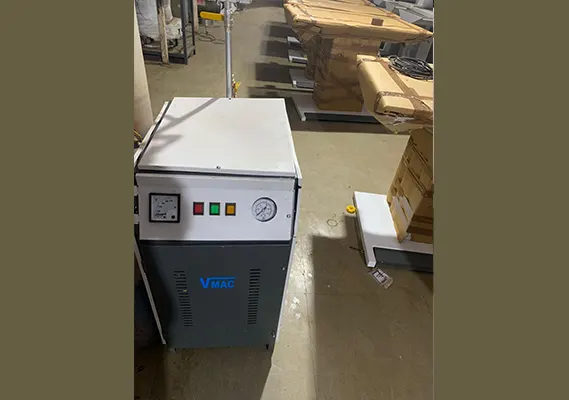 VMAC is the leading Steam Generator Manufacturers, also called a steam boiler; it is a device that produces steam by way of heating water. It is extensively utilized in various industries and programs, such as electricity era, heating systems, textile production, meals processing, and cleansing techniques.
Description
Being the largest Steam Generator Suppliers. The primary principle of our steam generator includes the conversion of water into steam thru the software of heat. The steam generated may be used for special functions depending on the precise industry or software. Here are some key additives and features of a standard steam generator:
1. Boiler Shell: The boiler shell is the principle container where water is stored and heated. It is commonly manufactured from metallic and is designed to resist high pressures and temperatures.
2. Water Level Indicator: A steam generator is equipped with a water degree indicator to display the water degree in the boiler. This ensures secure and efficient operation, as keeping the ideal water level is crucial.
3. Burner or Heating Element: The burner or heating element is responsible for providing heat to the boiler. It can be fueled through numerous sources which include herbal gasoline, diesel, coal, biomass, or strength. The heat generated via the burner or heating element transfers to the water, raising its temperature and converting it into steam.
4. Safety Valves: Safety valves are crucial components of a steam generator. They help hold secure working pressure in the boiler via liberating excess steam if the pressure exceeds a predetermined restriction. This prevents the boiler from rupturing or causing a dangerous scenario.
5. Control System: A steam generator consists of a manipulate system that regulates various parameters consisting of temperature, pressure, water level, and fuel deliver. This gadget ensures safe and efficient operation with the aid of maintaining best situations and responding to any deviations or abnormalities.
We are the largest Steam Generator Exporters and Distributors. Steam turbines are utilized in an extensive variety of packages, which includes:
Power Generation: Steam generators play a vital role in power plant life in which they produce excessive-stress steam to force turbines and generate power.
Heating Systems: Steam turbines are used in vital heating structures or business methods that require steam for heating functions.
Textile Manufacturing: Steam is significantly utilized in textile production approaches, including fabric dyeing, completing, and garment urgent.
Food Processing: Steam mills are used in meals processing facilities for tasks such as cooking, sterilization, and cleansing.
Cleaning Processes: Steam is an effective and environmentally friendly technique for cleaning and sanitizing surfaces in industries together with hospitality, healthcare, and manufacturing.
VMAC is the name that has been widely known as the leader Steam Generator Traders in India, Our steam generator is a tool that converts water into steam through the utility of warmth. It is a flexible and crucial device used in numerous industries for energy technology, heating structures, textile manufacturing, meals processing, and cleansing methods.
Enquire Now
Your email address will not be published. Required fields are marked *
Steam Generator