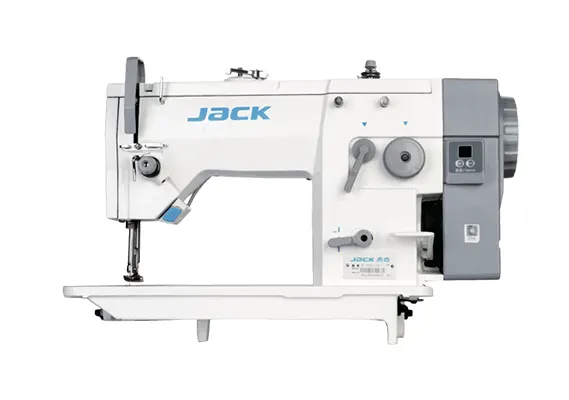 Jack is the name that has been widely known as the leader Sewing Machine JACK 20U Manufacturers in India We have manufactured machine in a way it can easily work with plenty of space to tackle even the biggest projects. The Direct Drive Motor just not only saves energy, but also ensures a quiet and smooth sewing experience. It has an Integrated Panel that allows users to easily adjust speed and needle for accurate and precise stitches. The machine also has several sewing options that make it quite convenient for various jobs. Any Season Pro or even a beginner can use our Jack 20U machine without any major training. With the new Automatic Oil Supply Improves Lubrication, the needle can easily move to 3 Positions all credit goes to Handy Needle Slider. It also allows the user to sew even with hinges. Our machine has a built in thread Cutter that allows precise cutting of the thread without the use of Scissors. This advantage is especially beneficial when working with complex patterns or switching between different thread colours. Also the machine has an inflow winding system that ensures even and consistent sewing even when working with thicker materials.
JACK 20U Sewing Machine - Specification
---
Add Stitch Button
In addition to activating the LED light, we have added an electronic button near the needle bar to a
Direct Drive Motor
Built-in 550W direct drive motor for efficient energy saving. Integrated panel for maximum speed and
Zig-Zag Width
The width of the zig-zag can reach 9mm and can be controlled by a convenient lever, or by the knee-l
Self Lubrication
Automatic oil supply for better lubrication.
Needle Position
The needle can be moved to 3 positions (central, right and left) thanks to a handy slider: this allo
Description
Jack is the leading JACK 20U Traders offering Short Stem Zig-Zag machine for sewing and embroidery. It has Adjustable zigzag in different widths up to 9 mm that is ideal for medium light fabrics. It has dual knee lift which can be used to lift the foot or to embroider. With Jack Short Handle Machine, all your Embroidery and stitching works will become Convenient. It is a versatile and efficient tool for sewing and embroidery. Our machine has an adjustable zigzag width of up to 9mm that makes it perfect for medium-weight fabrics. Also the dual use of the Knee lifter increases the comfort of the user and makes its use easier.
Being the largest JACK 20U Suppliers, the machine is a reliable and user-friendly choice for anyone who wants to tackle embroidery and sewing projects with ease. Its adjustable zigzag width and dual use of the knee lift make it a versatile and efficient tool for medium weight fabrics. Invest in this machine for a comfortable and easy sewing experience. We are the largest JACK 20U Exporters and distributors; we added an electronic button near the needle so that stitches can be accurately added even for the most difficult jobs. This button makes stiches smooth and transition easy and eliminates the need for manual adjustments. It has also electronic button that is programmable so that the user can save their favourite stitches for future use. Also thanks to the extra functionality, our Jack 20U is now even more convenient and user friendly. The machine is built in 550W Direct Drive motor for efficient energy saving. Integrated panel for maximum speed and needle positioning.
Enquire Now
Your email address will not be published. Required fields are marked *
JACK 20U Sewing Machine